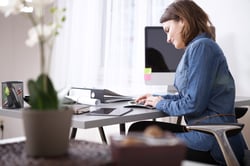 Don't think that year-end tax planning is strictly limited to individuals. A calendar-year business can also keep taxes for 2015 to the bare minimum with some astute planning at the end of the year. Here are five techniques for consideration by small-business owners.
Be flexible on Section 179. Currently, the maximum Section 179 deduction for qualified business property placed in service remains at just $25,000 for 2015, compared with $500,000 last year. Also, the special "bonus depreciation" tax break generally expired after 2014. As a result, you can feel comfortable with qualified expenditures up to the $25,000 threshold. For higher amounts, you might adopt a wait-and-see attitude. Then, if Congress approves an increase, your business is ready to pounce.
Fix up the office or plant. Generally, expenses for minor repairs you make to the business premises—for example, replacing a broken window—are currently deductible. Conversely, the cost of a capital improvement, like adding a new wing to a building, is added to your basis in the property. When possible, take care of repairs before year-end. Note that new regulations issued last year address several complex issues in this area. Current deductions may be available under a special safe-harbor election. For more information, contact your professional tax adviser.
Salvage bad debt deductions. If you have not been paid money owed to your business, at least you may be able to salvage a deduction for debts that are "worthless." But you must show that you have made good faith efforts to collect the debts. To secure a deduction for 2015, step up your collection activities before the end of the year. Remember to keep detailed records—including correspondence and e-mails with debtors—of your efforts.
Qualify for health insurance credit. Under the Affordable Care Act, a qualified small business may be eligible for a credit if it obtains health insurance coverage for its employees. To qualify, the business must have 25 or fewer full-time employees (FTEs) with average annual wages of less than $51,600 in 2015. The credit is reduced if either of these two limits is exceeded. Keep these limits in mind so as to preserve the maximum credit.
Start a business venture. A special tax law provision currently allows you to deduct up to $5,000 of qualified startup expenses for a new business. Any excess must be amortized over 180 months. In order to qualify for the current tax write-off, the operation must be an up-and-running activity, so make sure the doors are officially open for business before the end of the year.
Looking for more tax planning consulting advice? Contact Marty Williams, CPA by calling (334) 887-7022 or by leaving us a message below.