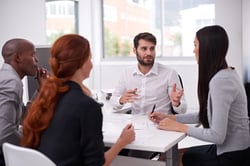 Most companies think that fraud is something that happens within other companies or bigger companies or even companies that don't have proper controls in place. But the truth is, it can happen in any organization. Fraud occurs in large and small organizations, for-profits and nonprofits, and even in organizations where management has implemented every control and procedure to try to prevent it. The Department of Revenue estimates nearly a third of employees commit some degree of employee theft.


We have all heard of segregation of duties, reconciling bank statements and reviewing the work of our employees. These are common topics when discussing internal controls and preventative fraud controls. However, there are other ways, not directly associated with the operating procedures of the organization, that can assist in deterring and preventing fraud. These ideas are complementary to the controls mentioned above.

According to the Association of Certified Fraud Examiners, typical organizations lose 5% of revenue each year to fraud. Most experts agree that it is easier to prevent fraud than it is to detect it. Management needs to increase awareness of fraud detection programs within their organizations as a preventive tool to deter fraud from occurring to begin with. By making employees aware, they will be less likely to commit wrongdoing.

Here are 5 ways for management increase the perception of detection:

Require employees to take vacation time. By requiring your employees to take some of their built-up vacation time, they are not able to cover their tracks during the time they are away.


Implement a fraud policy and educate employees: Draft and implement a fraud policy and provide anti-fraud education for your employees to effectively demonstrate that fraud is not acceptable in your business and, if discovered, that it will be dealt with accordingly. In 92% of the cases that the Association of Certified Fraud Examiners reviewed, at least one common behavioral red flag was identified before the fraud was detected. Managers, employees, auditors and others should be trained to recognize these warning signs that, when combined with other factors, might indicate fraud.
Maintain strong management oversight: Management needs to be visible to your employees and take an active part in the organization. Involved managers are more likely to notice changes in employees and through their involvement, deter fraudulent activity.


Implement a whistle-blower protection program: Such a program reinforces management's stance that fraudulent activity will not be tolerated. Further, employees will have a safe way to report suspicious behavior or activities that they may observe.


Perform surprise audits: The method and frequency of surprise audits will vary based on the industry and size or your organization. However, by surprising your employees with audits, they may be wary of committing fraud, as they know there is a chance of being caught if another surprise audit is conducted.
Regardless of industry or organization size, management needs to be proactive in preventing fraud. There is no such thing as a "safe" organization; applying some or all of these measures is a good first step in decreasing the likelihood of fraud and protecting your company's financial health and well-being.

For more information on business advisory services, please contact Michael D. Machen, CPA, CVA at (334) 887-7022 or please feel free to leave us a message below.